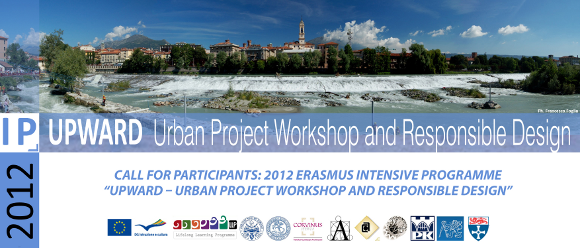 Five students from The Faculty of Urban Planning, UAUIM are invited to take part to the Erasmus IP "UPWARD – Urban Project Workshop and Responsible Design" that will take place in Torino from May the 6rd, 2012 to May 18th, 2012, during which an Urban Project will be developed by students coming from 8 EU countries, in an area located near Torino.
Eligibility requirements
Participation for admission to the IP is open to: urban or landscape students who are enrolled at the first year of master degree of courses in Urban Design and Planning (MPU) and Landscape Design and Planning (MPT), (1MPU student, 1 MPT student) and first year PhD students in Urban Design and Planning or Landscape Design and Planning which a thesis dealing with a theme in Urban Planning or Landscape, close to the Urban Project (3 PhD students).
Selection criteria and application requirements
Competences of applicant will be assessed on the basis of the evaluation of their educational background, as well as on their motivation and portfolio. Gender balance will be considered as well. The specific selection criteria are the following: Academic merit; English knowledge; Motivation; Portfolio.
Applicants must submit an application form enclosing the following information and documents:
Personal data (name, surname, date of birth, degree course and year) and contact details (address, phone, email);
Certificate of exams with marks, credits and year of the first enrolment;
Motivation letter, in English;
Portfolio: 3/4 A3 sheets showing the most relevant didactic experiences (the experiences might not be exclusively design works);
Certificate of English proficiency will be consider an advantage.
Application deadline
The peremptory deadline to submit the documentation listed above is February 22nd, 2012.
The documentation must be submitted to:
Faculty of Urban Planning (secretary office), UAUIM