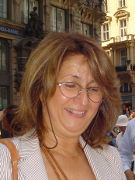 Technical Sciences Department
Phone: +40213077145
Email: rodica.crisan@uauim.ro
Professor of Architectural Construction and Building Rehabilitation.
Tutor for doctoral studies in Architecture at UAUIM.
Former Vice-Rector of Ion Mincu University (2008-2012)
Former Head of Department of Technical Sciences (2002-2008)
PhD at Ion Mincu University (1998) with the thesis: Rehabilitation of the traditional urban habitation. An integrative method of evaluation. The research contributes to the development of the knowledge on the potential of the minor architectural heritage for contemporary valorization at the same time as 'reusable resource' and testimony of local cultural identity, proposing a method of evaluation from both points of view based on the concept of "performance".
Research interest focused on historic masonry construction and pathology, theory of building rehabilitation, historic minor residential architecture and traditional urban housing in Romania.
Links