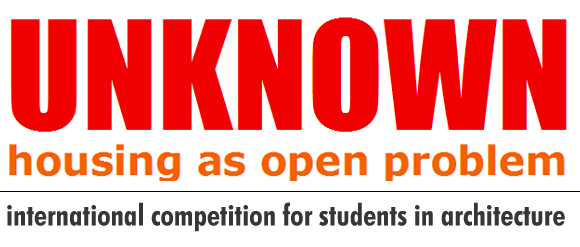 Theme | Rules | Entries | Winning Projects | Contact
The international jury consisting in
President

Pere RIERA, Spain

UAUIM

Zeno BOGDANESCU, Romania
Leo van BROCEK, Belgium
Maurizio DE VITA, Italy

AEEA

Urs HIRSCHBERG, Austria
Johannes KAFERSTEIN, Switzerland

Lafarge

Leopold LOMBARD, France

Manager

Françoise PAMFIL, Romania
and
"Ion Mincu" University of Architecture and Urbanism Bucharest_UAUIM with the European Association for Architectural Education_AEEA in quality of organizers together with LAFARGE Romania as exclusive sponsor congratulate the winners of the international competition for students in architecture entitled "unknown – housing as open problem". Nine universities from six european countries (Belgium, Italy, Ireland, The Netherlands, Portugal, and Romania ) participated during the academic year 2011 – 2012 within the general debate on housing as open problem.
The international exhibition opened online on 11th of February 2013 and displayed in UAUIM exhibition hall on the 20th of February consisted in 42 panels. The jury met during the 22nd and 23rd of February. The complexity of responses to the theme open excellent discussions both during the international jury and in the special conferences organized around the event.
Looking forward in discussing the results of this competition and finding together the theme for the next one 2013 – 2015 please accept again our admiration for the quality of each entry that endorses the decision to continue this common endeavor.
Prof.Ph.D. Arch. Emil BARBU POPESCU,
President of UAUIM, Bucharest, Romania
www.uauim.ro/en/unknown/
---
Please find attached the following documents:
WINNING PROJECTS
---
---
---
---
---
---
---
---
---