Mazzocchioo.Talks#9 brings together two eminent British architects and educators, Tony Fretton and Jonathan Sergison, both of whom have made remarkable contributions to the field of architecture.
The schedule for the conferences is as follows:
Monday, 13th November: Sala Frescelor, UAUIM, 18h00

Launch of Mazzocchioo.Magazine#9, conceived around interviews with Tony Fretton and Jonathan Sergison
Conference by Tony Fretton

Tuesday, 14th November: Sala Auditorium, National Museum of Romanian Art [MNAR] (str. Stirbei Voda, nr.1)

17h00: opening of the exhibition Anatomy of a City, architectural research on the morphology of Bucharest by Mazzocchioo studio and by Radu Tirca
18h00: Conference by Jonathan Sergison
~19h30: On-stage dialogue with our esteemed guests, commencing approximately at 19h30
For your convenience, further details about the event can be found on our website: www.mazzocchioo.com.
MAZZOCCHIOO.TALKS #9 is organized with the support of The Romanian Order of Architects through the Architecture Stamp Duty and The Romanian Order of Architects Bucharest Branch and The University of Architecture and Urbanism Ion Mincu and Graphein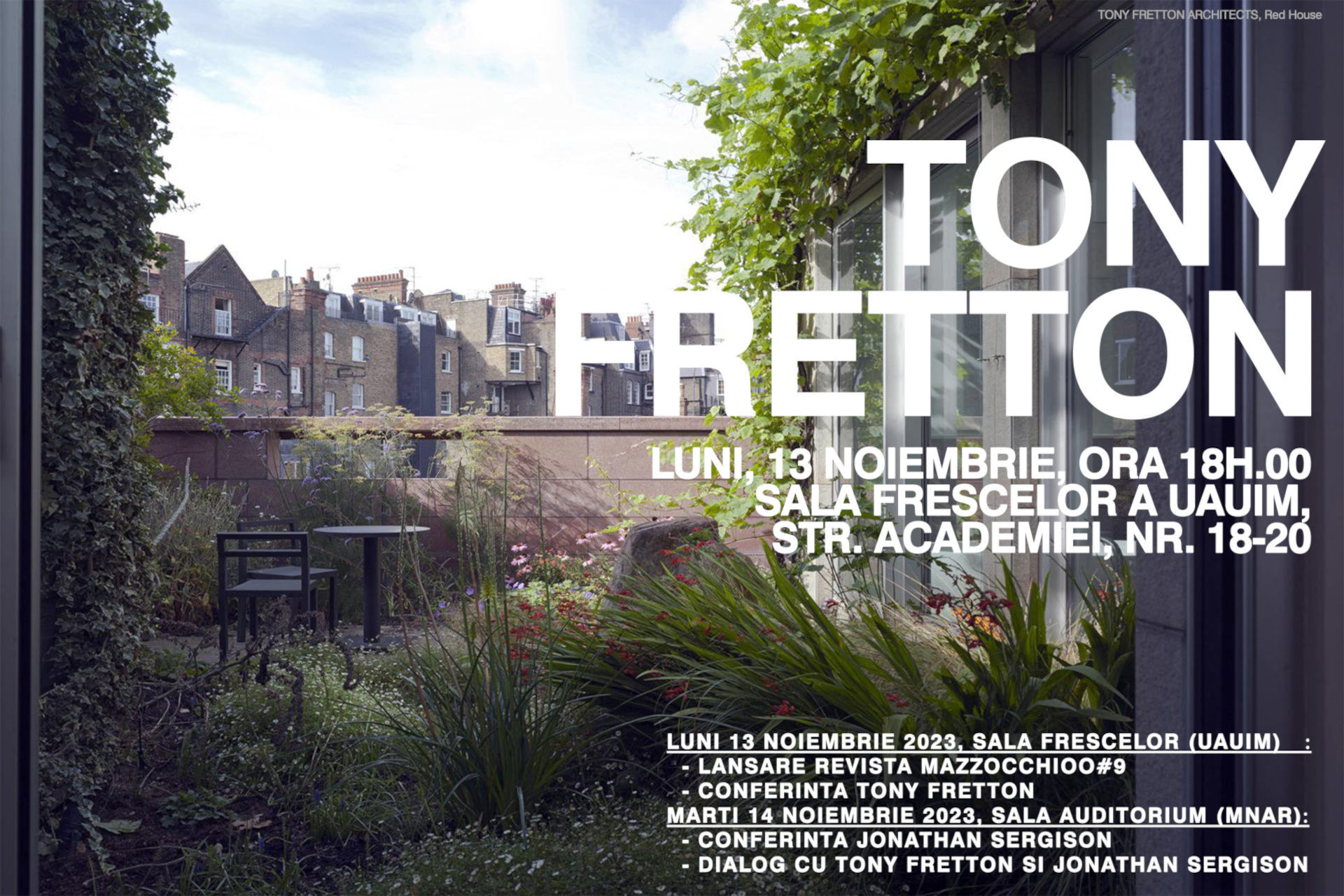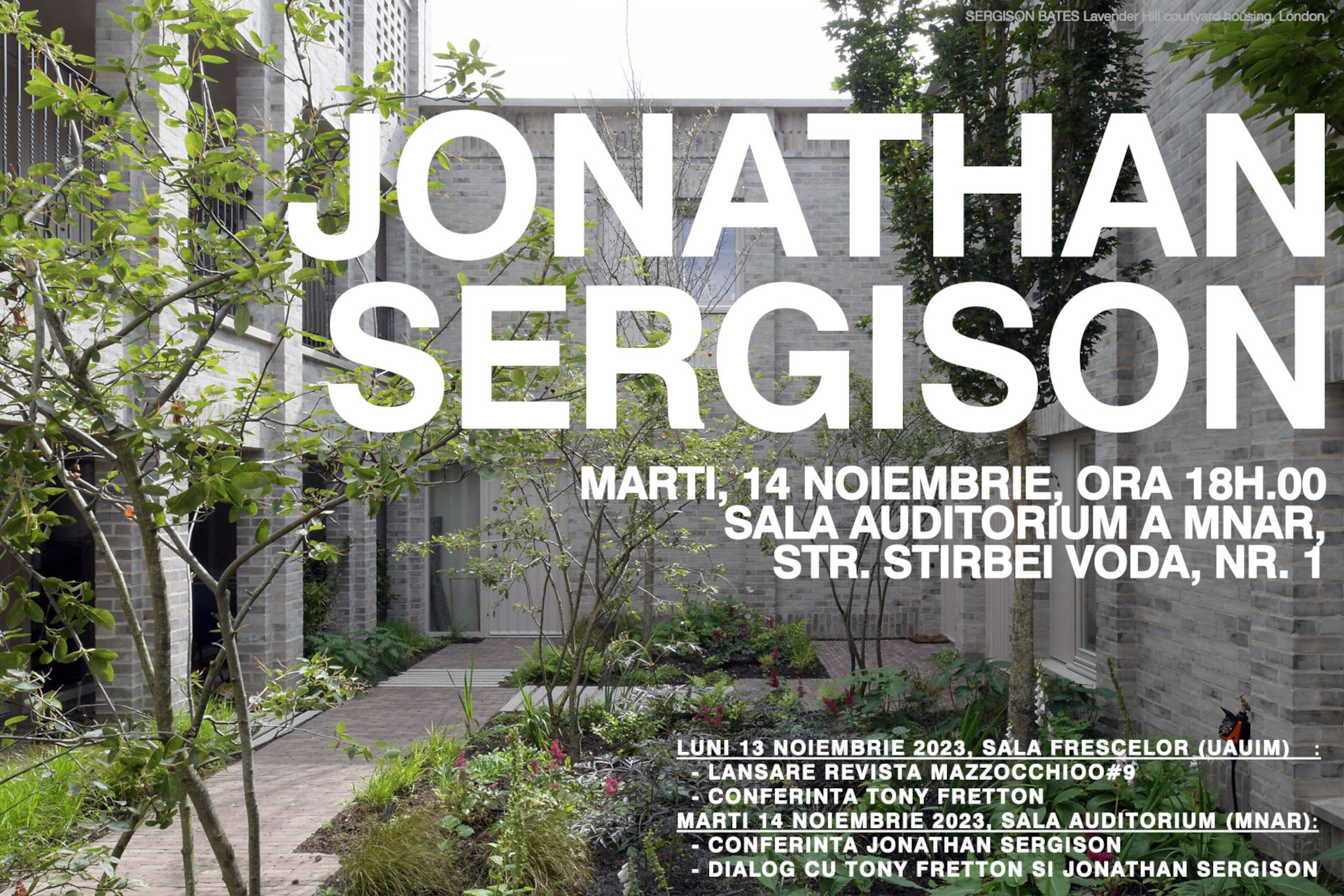 Tony Fretton is a principal of Tony Fretton Architects with James McKinney and David Owen. Buildings designed and realised by the practice include the Lisson Gallery London, Red House Chelsea, Fuglsang Kunstmuseum in Denmark, which was shortlisted for the Stirling Prize and the new British Embassy in Warsaw, Solid 11, a multi-purpose building in Amsterdam and most recently two apartment towers in Antwerp Harbour and the City Hall of Deinze in Belgium. Fretton was Chair of Architectural Design-Interiors at the Technical University of Delft in the Netherlands (1999-2013) and visiting professor at the following institutions: Graduate School of Design, Harvard (2005-2006), ETH Zurich in (2011-2012), Oslo School of Architecture (2015-16), University of Navarre Spain (2016), ETSAB Barcelona( 2017-2018). Currently, he is Master of Diploma Unit 2 at the School of Art, Architecture and Design at London Met and visiting professor at the University of East London. Tony Fretton is a trustee of Docomomo London. His sketch books are in the archive of the Victoria and Albert Museum, and project models and drawings by the practice are in the Drawing Matter Trust collection.
Jonathan Sergison graduated from the Architectural Association School of Architecture in 1989 and gained professional experience working for David Chipperfield and Tony Fretton.
Jonathan Sergison and Stephen Bates founded Sergison Bates architects in London in 1996, and in 2010 a second studio was opened in Zurich Switzerland. Sergison Bates architects have built numerous projects worldwide and the practice has received many prizes and awards. The work of Sergison Bates architects has been extensively published.
Jonathan Sergison has taught at a number of schools of architecture, including the University of North London, the Architectural Association in London, was Visiting Professor at the Swiss Federal Institute of Technology (ETH) in Zurich, the Ecole Polytechnique Fédérale in Lausanne (EPFL), the Oslo School of Architecture and Design and the Harvard University Graduate School of Design. Since 2008 he has been Professor of Design and Construction at the Accademia di Mendrisio, Switzerland.
He is particularly interested in urban questions and the conditions of the contemporary European city. More specifically he has addressed through writing, teaching and practice the role housing might play in this changing context.
He regularly writes and lectures, attends reviews in schools of architecture and is actively involved in commissions and competition juries.